Nissan Versa

sedan Owners Manual

Appearance and care » Cleaning interior

Floor mats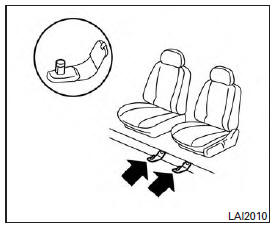 WARNING
To avoid potential pedal interference that may result in a collision, injury or death:
NEVER place a floor mat on top of another floor mat in the driver front position or install them upside down or backwards.
Use only Genuine NISSAN floor mats, or equivalent floor mats, that are specifically designed for use in your vehicle model and model year.
Properly position the mats in the floorwell using the floor mat positioning hook. For additional information, refer to Floor mat installation in this section.
Make sure the floor mat does not interfere with pedal operation.
Periodically check the floor mats to make sure they are properly installed.
After cleaning the vehicle interior, check the floor mats to make sure they are properly installed.
The use of Genuine NISSAN floor mats can extend the life of your vehicle carpet and make it easier to clean the interior. Mats should be maintained with regular cleaning and replaced if they become excessively worn.
Floor mat positioning aid (driver's side only)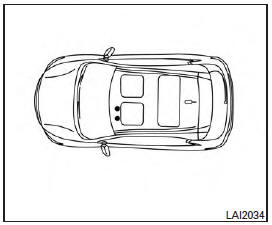 This vehicle includes two driver's side front floor mat brackets to help keep your floor mats in place. Genuine NISSAN floor mats have been specially designed for your vehicle model. The driver's side floor mat has two grommet holes incorporated in it. Position each mat by placing the floor mat bracket hook through the floor mat grommet holes while centering the mat in the floorwell.
Periodically check to make certain the mats are properly positioned.
More about «Cleaning interior»:
Floor mats
© 2017-2023 Copyright www.niveguide.com