Nissan Versa

Sedan Service Manual

Engine » Engine control system (EC) » Structure and operation

On Board Refueling Vapor Recovery (ORVR)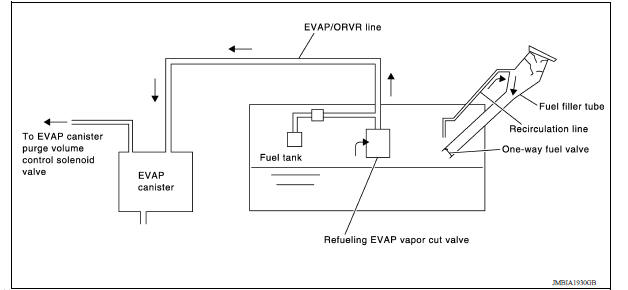 From the beginning of refueling, the air and vapor inside the fuel tank go through refueling EVAP vapor cut valve and EVAP/ORVR line to the EVAP canister. The vapor is absorbed by the EVAP canister and the air is released to the atmosphere.
When the refueling has reached the full level of the fuel tank, the refueling EVAP vapor cut valve is closed and refueling is stopped because of auto shutoff. The vapor which was absorbed by the EVAP canister is purged during driving.
WARNING:
When conducting inspections below, be sure to observe the following:
Put a "CAUTION: FLAMMABLE" sign in workshop.
Do not smoke while servicing fuel system. Keep open flames and sparks away from work area.
Be sure to furnish the workshop with a CO2 fire extinguisher.
CAUTION:
Before removing fuel line parts, carry out the following procedures:
Put drained fuel in an explosionproof container and put lid on securely.
Release fuel pressure from fuel line.
Disconnect battery ground cable.
Always replace Oring when the fuel gauge retainer is removed.
Do not kink or twist hose and tube when they are installed.
Do not tighten hose and clamps excessively to avoid damaging hoses.
After installation, run engine and check for fuel leaks at connection.
Do not attempt to top off the fuel tank after the fuel pump nozzle shuts off automatically.

Continued refueling may cause fuel overflow, resulting in fuel spray and possibly a fire.
More about «Structure and operation»:
On Board Refueling Vapor Recovery (ORVR)
Categories
© 2017-2023 Copyright www.niveguide.com