Nissan Versa

Sedan Service Manual

Engine » Engine control system (EC) » Engine control system

Throttle Position Sensor
Electric throttle control actuator consists of throttle control motor, throttle position sensor, etc. The throttle position sensor responds to the throttle valve movement.
The throttle position sensor has two sensors. These sensors are a kind of potentiometer which transform the throttle valve position into output voltage, and emit the voltage signals to the ECM. The ECM judges the current opening angle of the throttle valve from these signals and controls the throttle valve in response to driving conditions via the throttle control motor.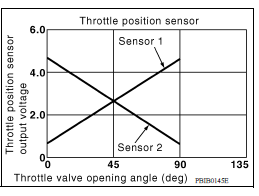 ASCD Steering Switch
ASCD steering switch has variant values of electrical resistance for each button. ECM reads voltage variation of switch, and determines which button is operated.
More about «Engine control system»:
Throttle Position Sensor
Categories
© 2017-2023 Copyright www.niveguide.com