Nissan Versa

sedan Owners Manual

Instruments and controls » Meters and gauges

Trip computer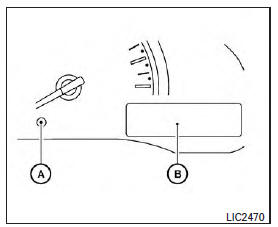 Type A (if so equipped)
When the ignition switch is placed in the ON position, modes of the trip computer can be selected by pushing the change/reset button A on the instrument panel located near the speedometer.
The following modes can be selected in the display B :
Odometer
Trip A
Trip B
Instant fuel consumption
Average fuel consumption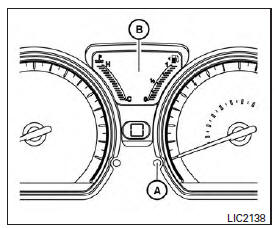 Type B (if so equipped)
Distance to empty
Outside air temperature (if so equipped)
Odometer
The odometer records the total distance the vehicle has been driven.
Trip A
Measures the distance of one specific trip.
Trip B
Measures the distance of a second specific trip.
Instant fuel consumption
The instant fuel consumption mode shows the instant fuel economy. The display updates instantly when driving.
Average fuel consumption (mpg or l (liter)/100 km)
The average fuel consumption mode shows the average fuel consumption since the last reset.
Resetting is done by pressing the trip or change button for more than approximately 1 second.
The display is updated every 30 seconds. At about the first 1/3 mi (500 m) after a reset, the display shows (----).
Distance to empty
The distance to empty mode provides you with an estimation of the distance that can be driven before refueling. The range is constantly being calculated, based on the amount of fuel in the fuel tank and the actual fuel consumption.
The distance to empty includes a low range warning feature: when the fuel level is low, the distance to empty is automatically selected and the digits blink in order to draw the driver's attention.
Press the trip computer change/reset button A if you wish to return to the mode that was selected before the warning occurred.
When the fuel level drops even lower, the distance to empty will display (----).
Outside air temperature (F or C) (if so equipped)
The outside air temperature is displayed in F or C.
The ambient temperature sensor is located in front of the radiator. The sensor may be affected by road or engine heat, wind directions and other driving conditions. The display may differ from the actual ambient temperature or the temperature displayed on various signs or billboards.
Trip computer reset
Pressing the change/reset button for more than 3 seconds will reset all modes except Trip A and distance to empty.
More about «Meters and gauges»:
Trip computer