Nissan Versa

Sedan Service Manual

Brakes » Brake control system (BRC) » VDC/TCS/ABS

VDC/TCS/ABS : EBD Function
SYSTEM DIAGRAM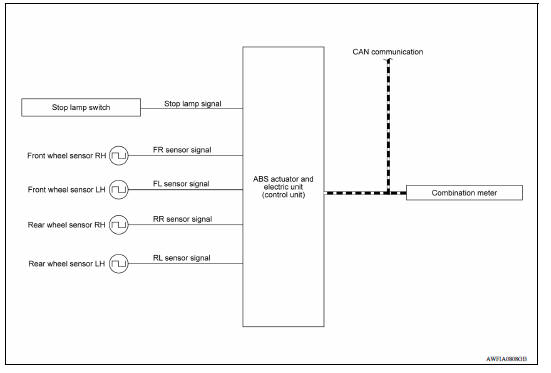 By preventing rear wheel slip increase through rear wheel brake force (brake fluid pressure) control that is electronically controlled when slight skip on front and rear wheels are detected during braking, stability during braking is improved.
EBD function is expanded and developed from conventional ABS function and corrects rear wheel brake force to appropriate level by electronic control according to load weight (number of passengers).

During braking, control unit portion compares slight slip on front and rear wheels by wheel speed sensor signal, transmits drive signal to actuator portion when rear wheel slip exceeds front wheel slip for the specified value or more, and controls rear wheel brake force (brake fluid pressure) so that increase of rear wheel slip is prevented and slips on front wheel and rear wheel are nearly equalized. ABS control is applied when slip on each wheel increases and wheel speed is the threshold value of ABS control or less.
CONSULT can be used to diagnose the system.
Fail-safe function is adopted. When a malfunction occurs in EBD function, the control is suspended for VDC function, TCS function, ABS function and EBD function. Refer to BRC "VDC/TCS/ABS : Fail-safe".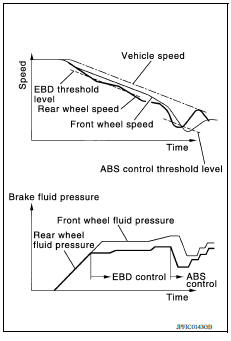 INPUT SIGNAL AND OUTPUT SIGNAL
Major signal transmission between each unit via communication lines is shown in the following table.

More about «VDC/TCS/ABS»:
VDC/TCS/ABS : EBD Function
Categories
© 2017-2023 Copyright www.niveguide.com