Nissan Versa

Sedan Service Manual

Engine » Engine control system (EC) » Engine control system

Air Fuel Ratio Sensor 1
The air fuel ratio (A/F) sensor 1 is a planar onecell limit current sensor.
The sensor element of the A/F sensor 1 is composed an electrode layer, which transports ions. It has a heater in the element.
The sensor is capable of precise measurement

= 1, but also in the lean and rich range. Together with its control electronics, the sensor outputs a clear, continuous signal throughout a wide

range.
The exhaust gas components diffuse through the diffusion layer at the sensor cell. An electrode layer is applied voltage, and this current relative oxygen density in lean. Also this current relative hydrocarbon density in rich.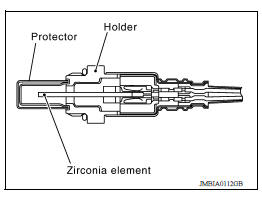 Therefore, the A/F sensor 1 is able to indicate air fuel ratio by this electrode layer of current. In addition, a heater is integrated in the sensor to ensure the required operating temperature of about 800C (1,472F).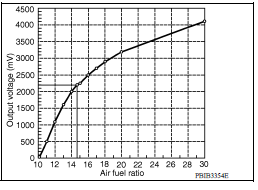 More about «Engine control system»:
Air Fuel Ratio Sensor 1