Nissan Versa

Sedan Service Manual

Brakes » Brake system (BR)

Brake pad
BRAKE PAD : Inspection and Adjustment
INSPECTION
Check brake pad wear thickness from an inspection hole on cylinder body. Check using a scale if necessary.
Wear thickness : Refer to BR "Front Disc Brake".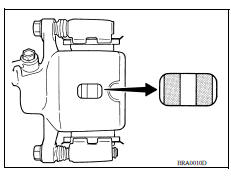 ADJUSTMENT
Burnish contact surfaces between disc rotor and brake pads according to the following procedure after refinishing or replacing brake pads, or if a soft pedal occurs at very low mileage.
CAUTION:
Be careful of vehicle speed because the brake does not operate firmly/securely until pads and disc rotor are securely fitted.
Only perform this procedure under safe road and traffic conditions. Use extreme caution.
Drive vehicle on straight, flat road.
Depress brake pedal with the power to stop vehicle within 3 to 5 seconds until the vehicle stops.
Drive without depressing brake for a few minutes to cool the brake.
Repeat steps 1 to 3 until pad and disc rotor are securely fitted.
More about «Brake system (BR)»:
Brake pad
Categories
© 2017-2023 Copyright www.niveguide.com