Nissan Versa

sedan Owners Manual

Monitor, climate, audio, phone and voice recognition systems

Control panel buttons - color screen with Navigation System (if so equipped)
WARNING
Positioning of the heating or air conditioning controls and display controls should not be done while driving in order that full attention may be given to the driving operation.
Do not disassemble or modify this system.

If you do, it may result in accidents, fire, or electrical shock.

Do not use this system if you notice any abnormality, such as a frozen screen or lack of sound. Continued use of the system may result in accident, fire or electric shock.
In case you notice any foreign object in the system hardware, spill liquid on it, or notice smoke or smell coming from it, stop using the system immediately. Ignoring such conditions may lead to accidents, fire or electrical shock. It is recommended that you visit a NISSAN dealer for servicing.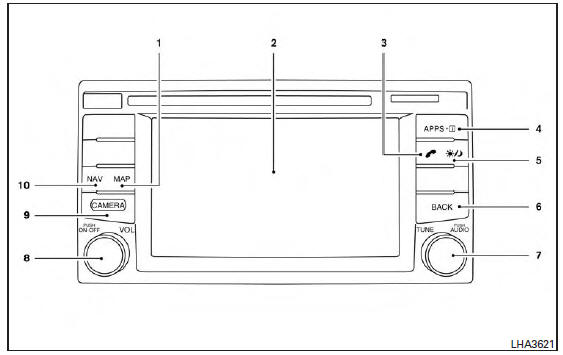 1. MAP button*
2. Display screen
3.

button**
4.

button
5.

(brightness control) button
6. BACK button
7. AUDIO button / TUNE knob
8. ON-OFF button/VOL (volume) control knob
9. CAMERA button
10. NAV button*
*For additional information regarding the Navigation system control buttons, refer to the separate Navigation System Owner's Manual.
**For additional information regarding the Bluetooth Hands-Free Phone System control button, refer to "Bluetooth Hands-Free Phone System with Navigation System" in this section.
When you use this system, make sure the engine is running.
If you use the system with the engine not running (ignition ON or ACC) for a long time, it will discharge the battery, and the engine will not start.
Reference symbols: "Example" - Words marked in quotes refer to a key shown only on the display. These keys can be selected by touching the screen.
More about «Monitor, climate, audio, phone and voice recognition systems»:
Control panel buttons - color screen with Navigation System (if so equipped)