Nissan Versa

Sedan Service Manual

Electrical & power control » Power supply, ground & circuit elements (PG) » Battery

How to Handle Battery
CAUTION:
If it becomes necessary to start the engine with a booster battery and jumper cables, use a 12-volt booster battery.
After connecting battery cables, ensure that they are tightly clamped to battery terminals for good contact.
Never add distilled water through the hole used to check specific gravity.
METHODS OF PREVENTING OVER-DISCHARGE
The following precautions must be taken to prevent over-discharging a battery.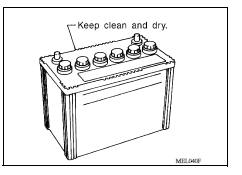 When the vehicle is not going to be used over a long period of time, disconnect the battery cable from the negative terminal. (If the vehicle has an extended storage switch, turn it off.)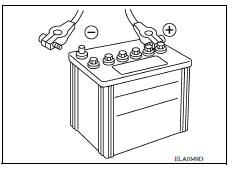 More about «Battery»:
How to Handle Battery
Categories
© 2017-2023 Copyright www.niveguide.com