Nissan Versa

sedan Owners Manual

Monitor, climate, audio, phone and voice recognition systems » Control panel buttons - color screen with Navigation System (if so equipped)

How to use the touch-screen
CAUTION
The glass display screen may break if it is hit with a hard or sharp object. If the glass screen breaks, do not touch it.

Doing so could result in an injury

To clean the display, never use a rough cloth, alcohol, benzine, thinner or any kind of solvent or paper towel with a chemical cleaning agent. They will scratch or deteriorate the panel.
Do not splash any liquid such as water or car fragrance on the display. Contact with liquid will cause the system to malfunction.
To help ensure safe driving, some functions cannot be operated while driving.
The on-screen functions that are not available while driving will be "grayed out" or muted.
Park the vehicle in a safe location and then operate the navigation system.
WARNING
ALWAYS give your full attention to driving.
Avoid using vehicle features that could distract you. If distracted, you could lose control of your vehicle and cause an accident.
Touch-screen operation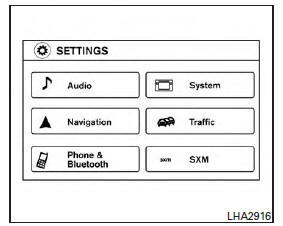 Touch-screen operation
Menu Item
Result
Selecting the item
Touch an item to select . To select the "Audio" key, touch the "Audio" key on the screen. Press the "BACK" button to return to the previous screen.
Adjusting the item
Touch the "+" key or the " " key to adjust the settings of an item. Touch the up arrow to scroll up the page one item at a time to scroll up an entire page. Touch the down arrow to scroll down the page one item at a time to scroll down an entire page.
Inputting characters
Touch the letter or number key. There are some options available when inputting characters.
123/ABC
Changes the available character set to numbers.
Space
Inserts a space.
Delete
Deletes the last inputted character with one touch. Touch and hold the "Delete" key to delete all of the characters.
OK
Completes the character input.
Touch-screen maintenance
If you clean the display screen, use a dry, soft cloth. If additional cleaning is necessary, use a small amount of neutral detergent with a soft cloth. Never spray the screen with water or detergent.
Dampen the cloth first and then wipe the screen.
How to use the BACK button
Press the BACK button to return to the previous screen.
More about «Control panel buttons - color screen with Navigation System (if so equipped)»:
How to use the touch-screen