Nissan Versa

Sedan Service Manual

Transmission & driveline » Transaxle & transmission (TM)

Input shaft and gear
Exploded View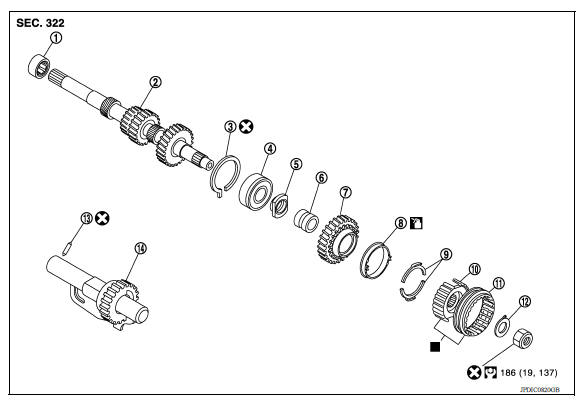 1. Input shaft front bearing 2. Input shaft 3. Snap ring 4. Input shaft rear bearing 5. Adapter plate 6. Bushing 7. 5th input gear 8. 5th-reverse baulk ring 9. Synchronizer lever 10. 5th-reverse synchronizer hub 11. 5th-reverse coupling sleeve 12. Lock washer 13. Retaining pin 14. Reverse gear

: Apply gear oil.

: Replace the parts as a set.
Disassembly
Refer to TM, "Disassembly" for disassembly procedure.
Assembly
Refer to TM, "Assembly" for assembly procedure.
Inspection
INSPECTION AFTER DISASSEMBLY
Input Shaft and Gear
Check the following items and replace if necessary.
Damage, peeling, uneven wear, and distortion of shaft.
Excessive wear, damage, and peeling of gear.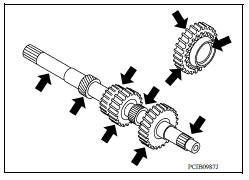 Synchronizer
Check for the following and replace if necessary.
Contact surface breakage, damage, and unusual wear of coupling sleeve, synchronizer hub, and synchronizer lever.
Coupling sleeve and synchronizer hub move smoothly.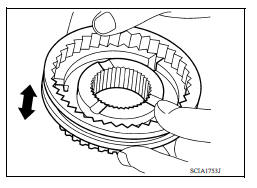 Breakage, damage, and excessive wear of baulk ring cam surface and synchronizer lever contact surface.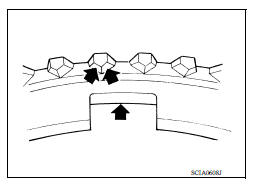 Bearing
Check bearing for damage and rough rotation. Replace if necessary.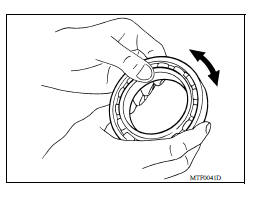 More about «Transaxle & transmission (TM)»:
Input shaft and gear