Nissan Versa

Sedan Service Manual

Driver controls » Exterior lighting system (EXL) » Front fog lamp aiming adjustment

Inspection
PREPARATION BEFORE ADJUSTING
CAUTION: Do not use organic solvent (thinner, gasoline etc.)
NOTE:
For details, refer to the regulations in your own country.
Perform aiming if the vehicle front body has been repaired and/or the front fog lamp has been replaced.
Before performing aiming adjustment, check the following.
Keep all tires inflated to correct pressure.
Place vehicle on level ground.
See that vehicle is unloaded (except for full levels of coolant, engine oil and fuel, and spare tire, jack, and tools). Have the driver or equivalent weight placed in driver seat.
Adjust aiming in the vertical direction by turning the adjusting screw.
When performing adjustment, if necessary, cover the headlamps and opposite fog lamp.
AIMING ADJUSTMENT SCREW
Turn the aiming adjusting screw using a suitable tool to aim the fog lamp.
A: UP

B: DOWN
For the position and direction of the adjusting screw refer to the figure as shown.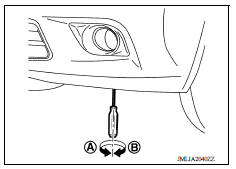 More about «Front fog lamp aiming adjustment»:
Inspection
Categories
© 2017-2023 Copyright www.niveguide.com