Nissan Versa

Sedan Service Manual

Transmission & driveline » Transaxle & transmission (TM)

Line pressure control
LINE PRESSURE CONTROL : System Description
SYSTEM DIAGRAM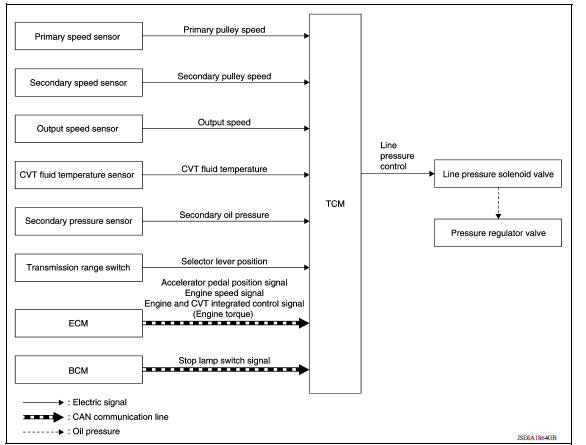 DESCRIPTION
Highly accurate line pressure control (secondary pressure control) reduces friction for improvement of fuel economy.
Normal Oil Pressure Control
Appropriate line pressure and secondary pressure suitable for driving condition are determined based on the accelerator pedal position, engine speed, primary pulley (input) speed, secondary pulley (output) speed, vehicle speed, input torque, stop lamp switch signal, transmission range switch signal, lock-up signal, power voltage, target shift ratio, oil temperature and oil pressure.
Secondary Pressure Feedback Control
In normal oil pressure control and oil pressure control in shifting, highly accurate secondary pressure is determined by detecting the secondary pressure using a oil pressure sensor and by feedback control.
More about «Transaxle & transmission (TM)»:
Line pressure control