Nissan Versa

Sedan Service Manual

Restraints » SRS Airbag control system (SRC)

Occupant classification system
OCCUPANT CLASSIFICATION SYSTEM : System Diagram
OCCUPANT CLASSIFICATION SYSTEM : System Description
The occupant classification system (OCS) identifies different size occupants, out of position occupants, and detects if child seat is present in the front passenger seat. The OCS control unit (2) receives inputs from the occupant classification sensors (1) (located inside the passenger seat cushion assembly). Depending on classification of the passenger, the OCS sends a signal to the air bag diagnosis sensor unit. The air bag diagnosis sensor unit uses this signal and the seat belt buckle switch RH signal to determine deployment or non deployment of the passenger front air bag in the event of a collision. Depending on the signals received, the air bag diagnosis sensor unit can disable the passenger front air bag completely. The OCS (weight sensors) must be set to zero point using CONSULT after servicing the OCS system.
NOTE:
CONSULT can be used to confirm when "zero point reset" for OCS is complete.
Always perform zero point reset after the removal and installation of the seat or when disconnecting the OCS control unit harness connector even if zero point reset has been completed in the past.
If zero point reset is incomplete, the passenger air bag will be disabled and the passenger air bag off indicator will be ON.
In case of customer concern, CONSULT can be used to confirm the passenger air bag status (readiness).
Passenger Air Bag Status Conditions
NOTE: Passenger does not meet Occupant Classification System specifications for passenger air bag activation.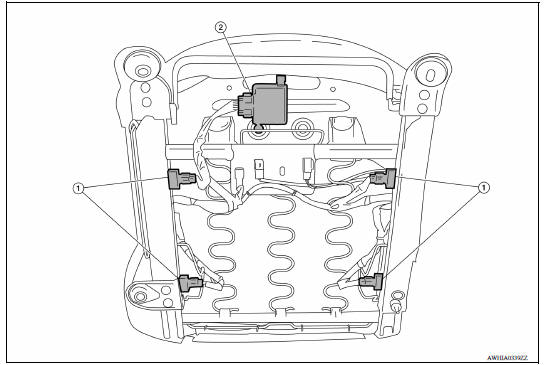 More about «SRS Airbag control system (SRC)»:
Occupant classification system