Nissan Versa

Sedan Service Manual

Driver controls » Wiper & washer (WW)

Washer tank
Exploded View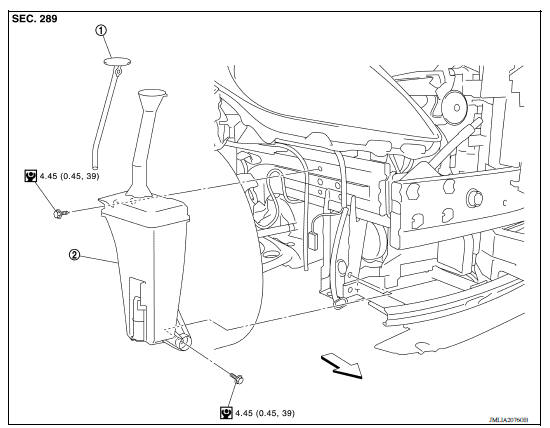 1. Washer tank inlet cap 2. Washer tank assembly

Front
Removal and Installation
REMOVAL
1. Remove fender protector. Refer to EXT "Removal and Installation".
2. Disconnect the harness connector from the washer pump.
3. Remove front washer tube.
4. Remove washer tank assembly bolts.
5. Remove washer tank assembly from the vehicle.
INSTALLATION
Installation is in the reverse order of removal.
NOTE:
After installation, add water to the top of the washer tank inlet to check that no leaks exist.
Fill washer tank with specified amount of fluid. Refer to WW "Specifications".
More about «Wiper & washer (WW)»:
Washer tank