Nissan Versa

sedan Owners Manual

Do-it-yourself

Windshield-washer fluid
Windshield-washer fluid reservoir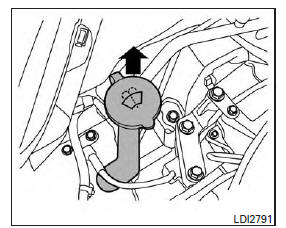 Add a washer solvent to the windshield-washer fluid reservoir for better cleaning. In the winter season, add a windshield-washer antifreeze. Follow the manufacturer's instructions for the mixture ratio.
Refill the reservoir more frequently when driving conditions require an increased amount of windshield-washer fluid.
Recommended fluid is Genuine NISSAN Windshield-Washer Fluid Concentrate Cleaner & Antifreeze or equivalent.
CAUTION
Do not substitute engine antifreeze coolant for windshield-washer solution.

This may result in damage to the paint.

Do not fill the windshield-washer fluid reservoir with washer fluid concentrates at full strength. Some methyl alcohol based washer fluid concentrates may permanently stain the grille if spilled while filling the windshieldwasher fluid reservoir.
Pre-mix windshield-washer fluid concentrates with water to the manufacturer's recommended levels before pouring the fluid into the windshield-washer fluid reservoir. Do not use the windshield-washer fluid reservoir to mix the washer fluid concentrate and water.
More about «Do-it-yourself»:
Windshield-washer fluid
© 2017-2023 Copyright www.niveguide.com