Nissan Versa

Sedan Service Manual

Transmission & driveline » Transaxle & transmission (TM) » A/T control system

A/T control system : system description
SYSTEM DESCRIPTION
The A/T senses vehicle operating conditions through various sensors or signals. It always controls the optimum shift position and reduces shifting and lock-up shocks.
Receives input signals transmitted from various switches and sensors.
Determines required line pressure, shifting point, lock-up operation, etc.
Transmits required output signals to the respective solenoids.
INPUT/OUTPUT SIGNAL CHART
Sensor (or signal)

TCM function

Actuator

Engine speed signal Engine torque signal Accelerator pedal position signal Closed throttle position signal Stop lamp switch signal Transmission range switch O/D switch signal A/T fluid temperature sensor Input speed sensor Output speed sensor Vehicle speed signal
Line pressure control (TM) Shift change control (TM) Shift pattern control (TM) Lock-up control (TM) Fail-safe control (TM) Self-diagnosis (TM) CONSULT communication line (TM) CAN communication line (TM)
Line pressure solenoid valve Torque converter clutch solenoid valve Low clutch solenoid valve 2-4 brake solenoid valve High clutch/low & reverse brake solenoid valve Select switch ON-OFF solenoid valve Shift position indicator O/D OFF indicator lamp
INPUT/OUTPUT SIGNAL OF TCM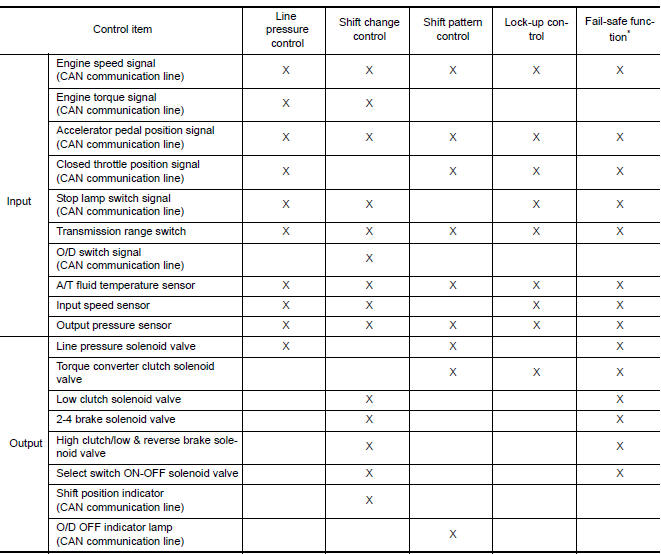 *: If these input and output signals are different, the TCM triggers the fail-safe function.
More about «A/T control system»:
A/T control system : system description
Categories
© 2017-2023 Copyright www.niveguide.com