Nissan Versa

Sedan Service Manual

Engine » Accelerator control system (ACC)

Accelerator control system
Exploded View
1. Accelerator pedal assembly 2. Brake pedal bracket A. Locating hook B. Locating pin
Removal and Installation
CAUTION:
Do not disassemble accelerator pedal assembly. Do not remove accelerator pedal position sensor from accelerator pedal assembly.
Avoid impact from dropping etc. during handling.
Be careful to keep accelerator pedal assembly away from water.
REMOVAL
Disconnect the battery negative terminal. Refer to PG, "Removal and Installation".
Disconnect the harness connector from the accelerator pedal position sensor.
Remove the accelerator pedal assembly bolts and the accelerator pedal assembly.
INSTALLATION
Installation is in the reverse order of removal.
When installing the accelerator pedal assembly, align the locating hook and locating pin holes on the brake pedal bracket.
CAUTION: Do not squeeze the locating hook in the break pedal bracket when inserting the locating pin into the hole on the brake pedal bracket side.
After installation, perform inspection of the accelerator pedal assembly.
Check that the accelerator pedal moves smoothly within the specified range.
Accelerator pedal travel (A) : Refer to ACC, "Accelerator Control"
CAUTION:

Whenever the harness connector of accelerator pedal position sensor is disconnected, perform "ACCELERATOR PEDAL RELEASED POSITION LEARNING". Refer to EC, "Work Procedure".
The accelerator pedal should return smoothly without catching to the fully raised position.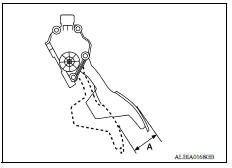 SERVICE DATA AND SPECIFICATIONS (SDS)
Accelerator Control
PEDAL TRAVEL

More about «Accelerator control system (ACC)»:
Accelerator control system
Categories
© 2017-2023 Copyright www.niveguide.com