Nissan Versa

Sedan Service Manual

Engine » Engine mechanical (EM) » Drive belt

Adjustment
CAUTION:
When belt is replaced with new one, adjust belt tension to the value for "New belt," because new belt will not fully seat in the pulley groove.
When tension of the belt being used exceeds "Limit," adjust it to the value for "After adjusted."
When installing a belt, check it is correctly engaged with the pulley groove.
Do not allow oil or engine coolant to get on the belt.
Do not twist or bend the belt strongly.
Remove the fender protector (RH) front side clip.
Tighten lock nut (A) temporarily to the following torque.
Lock nut (A)(Temporary tightening) : 4.4 N*m (0.45 kgm, 39 inlb)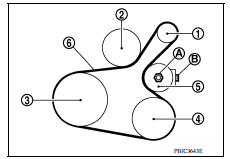 (1) : Generator

(2) : Water pump

(3) : Crankshaft pulley

(4) : A/C compressor (with A/C models): Idler pulley (without A/C models)

(5) : Idler pulley

(6) : Drive belt

(B) : Adjusting bolt
Adjust the belt tension by turning the adjusting bolt.
CAUTION:
When checking immediately after installation, first adjust it to the specified value. Then, after turning crankshaft two turns or more, readjust to the specified value to avoid variation in deflection between pulleys.
When the tension adjustment is performed, the lock nut should be in the condition at Step 2. If the tension adjustment is performed when the lock nut is loosened more than the temporary tightening, the idler pulley tilts and the correct tension adjustment cannot be performed.
Tighten the lock nut to final tightening specification.
Lock nut (Final tightening) : 34.8 N*m (3.5 kgm, 26 ftlb)
More about «Drive belt»:
Adjustment
Categories
© 2017-2023 Copyright www.niveguide.com