Nissan Versa

Sedan Service Manual

Driver controls » Exterior lighting system (EXL) » Headlamp aiming adjustment

Aiming Adjustment Procedure
Aiming Adjustment procedure
1. Position the screen.
NOTE:
Stop the vehicle facing the screen.
Set the screen so that it is perpendicular to the road.
2. Make the distance between the headlamp center and the screen 7.62 m (25 ft).
3. Start the engine and illuminate the headlamp (LO).
CAUTION: Do not cover the lens surface with tape, etc. because it is made of plastic.
NOTE: Block the light from the headlamp that is not being adjusted with a thick fabric or similar object, so that it does not reach the adjustment screen.
4. Use the adjustment screw to adjust the low beams on the screen, so that it is within the aiming adjustment area.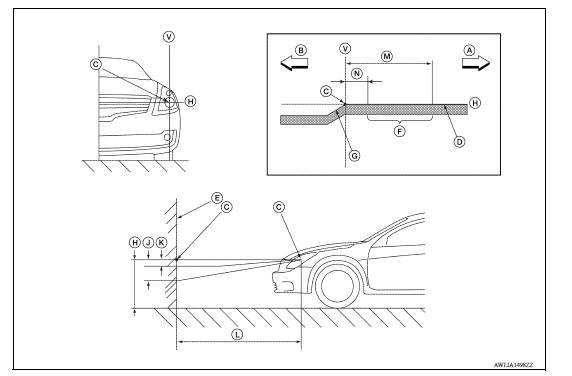 A. Right B. Left C. Center of headlamp bulb (H-V point) D. Cutoff line E. Screen F. Aim evaluation segment G. Step H. Horizontal center line of head lamp J. 53.2 mm (2.09 in) K. -13.3 mm (-0.52 in) L. 7.62 m (25 ft) M. 399 mm (15.71 in) N. 133 mm (5.24 in) V. Vertical center line of headlamp
Basic illuminating area for adjustment should be within the range shown on the aiming chart. Adjust headlamps accordingly.
More about «Headlamp aiming adjustment»:
Aiming Adjustment Procedure