Nissan Versa

Sedan Service Manual

Driver controls » Exterior lighting system (EXL) » Front fog lamp aiming adjustment

Aiming Adjustment Procedure
1. Screen placement.
NOTE:
Place the screen perpendicular to the level road.
Position the vehicle facing the screen with 10 m (32.8 ft) between the front fog lamp center and the screen.
2. Start the engine. Illuminate the front fog lamp.
CAUTION: Do not cover the lens surface with a tape etc. The lens are made of resin.
3. Adjust the cutoff line height (A) with the aiming adjustment screw so that the distance (X) between the horizontal center line of front fog lamp (H) and (A) becomes 200 mm (7.87 in).
Front fog lamp light distribution on the screen
A :Cutoff line
B :High illuminance
H :Horizontal center line of front fog lamp
V :Vertical center line of front fog lamp
X :Cutoff line height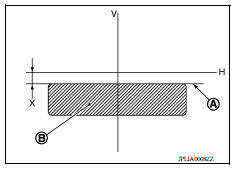 REMOVAL AND INSTALLATION
More about «Front fog lamp aiming adjustment»:
Aiming Adjustment Procedure
Categories
© 2017-2023 Copyright www.niveguide.com