Nissan Versa

Sedan Service Manual

Maintenance (MA) » Chassis and body maintenance

Brake lines and cables
BRAKE LINES AND CABLES : Inspection
BRAKE LINES
1. Check brake lines (pipes and hoses) for cracks, deterioration or other damage. Replace any damaged parts.
2. Check for brake fluid leaks by fully depressing brake pedal while engine is running.
CAUTION: Retighten the applicable connection to the specified torque and repair any abnormal (damaged, worn or deformed) part if any brake fluid leaks are present.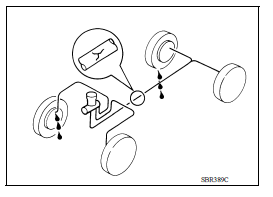 PARKING BRAKE CABLES
Check parking brake cables for improper attachment, leaks, chafing, abrasions, deterioration, etc.
More about «Chassis and body maintenance»:
Brake lines and cables