Nissan Versa

Sedan Service Manual

Engine » Engine control system (EC) » P0037, P0038 HO2s2 heater

Component Inspection
1.CHECK HEATED OXYGEN SENSOR 2 HEATER
Turn ignition switch OFF.
Disconnect heated oxygen sensor 2 (HO2S2) harness connector.
Check resistance between HO2S2 terminals as per the following.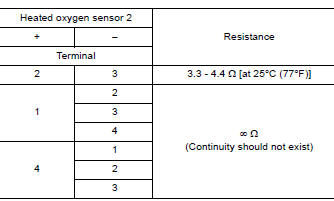 Is the inspection result normal?
YES >> INSPECTION END
NO >> GO TO 2.
2.REPLACE HEATED OXYGEN SENSOR 2
Replace heated oxygen sensor 2. Refer to EX, "Exploded View".
CAUTION:
Discard any sensor which has been dropped from a height of more than 0.5 m (19.7 in) onto a hard surface such as a concrete floor; use a new one.
Before installing new sensor, clean exhaust system threads using Oxygen Sensor Thread Cleaner [commercial service tool (J4389718 or J4389712)] and approved Antiseize Lubricant (commercial service tool).
>> INSPECTION END
More about «P0037, P0038 HO2s2 heater»:
Component Inspection
Categories
© 2017-2023 Copyright www.niveguide.com