Nissan Versa

Sedan Service Manual

Body exterior, doors, roof & vehicle security » Door & lock (DLK) » Intelligent key

Diagnosis Procedure
NOTE: The Signal Tech II Tool (J-50190) can be used to perform the following functions. Refer to the Signal Tech II User Guide for additional information.
Check Intelligent Key relative signal strength.
Confirm vehicle Intelligent Key antenna signal strength.
1.CHECK INTELLIGENT KEY BATTERY
Check by connecting a resistance (approximately 300Ω) so that the current value becomes about 10 mA. Refer to DLK "Removal and Installation".
Standard : Approx. 2.5 - 3.0V
Is the measurement value within the specification?
YES >> Replace Intelligent Key.
NO >> Replace Intelligent Key battery.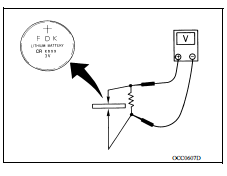 More about «Intelligent key»:
Diagnosis Procedure