Nissan Versa

Sedan Service Manual

Body exterior, doors, roof & vehicle security » Door & lock (DLK) » Door assembly

Door assembly : Removal and Installation
CAUTION:
Use two people when removing or installing front door due to its heavy weight
When removing and installing front door assembly, support the door using a suitable tool.
Use shops cloths to protect surrounding components from damage during removal and installation of front door assembly.
REMOVAL
1. Remove front door harness grommet (1) and then pull out the harness from the vehicle (2).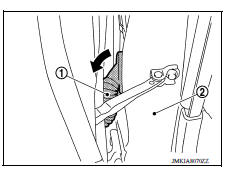 2. Disconnect the harness connectors (A) from front door assembly.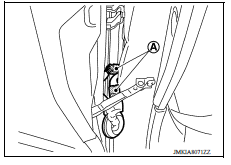 3. Remove door check link bolt (body side).
4. Remove door hinge nuts (door side) and front door assembly.
INSTALLATION
Installation is in the reverse order of removal.
CAUTION:
Apply anticorrosive agent onto the hinge mating surface.
After installation, check front door open/close, lock/unlock operation.
Check door hinge rotating point for poor lubrication. If necessary, apply a suitable multi-purpose grease.
After installation, perform the front door adjustment procedure. Refer to DLK "DOOR ASSEMBLY : Adjustment".
After adjusting, apply touch-up paint (body color) onto the head of door hinge nuts.
More about «Door assembly»:
Door assembly : Removal and Installation
Categories
© 2017-2023 Copyright www.niveguide.com