Nissan Versa

Sedan Service Manual

Engine » Engine cooling system (CO) » Engine coolant

Draining Engine Coolant
WARNING:
Do not remove radiator cap when engine is hot. Serious burns could occur from highpressure engine coolant escaping from radiator.
Wrap a thick cloth around the radiator cap. Slowly turn it a quarter of a turn to release builtup pressure.

Then turn it all the way.
Remove engine under cover.
Connect a drain hose to the radiator drain plug.
Use a suitable hose with the dimensions as shown.
Diameter (A) : 0.8 mm (0.31 in)
Length (B) : 300 mm (11.81 in)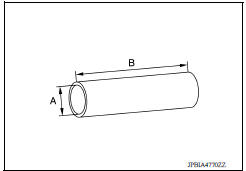 3. Open radiator drain plug (A) at the bottom of radiator, and then remove radiator cap.
: Front
CAUTION:
Perform this step when engine is cold.
Do not spill engine coolant on the drive belt.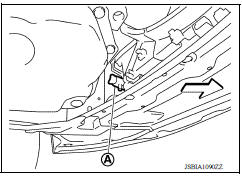 It is necessary to drain the cylinder block when draining all of engine coolant in the system. To drain the cylinder block, open the water drain plugs on cylinder block.
Remove reservoir tank if necessary, and drain engine coolant and clean reservoir tank before installing.
Check drained engine coolant for contaminants such as rust, corrosion or discoloration. If contaminated, flush the engine cooling system.
More about «Engine coolant»:
Draining Engine Coolant
Categories
© 2017-2023 Copyright www.niveguide.com