Nissan Versa

Sedan Service Manual

Engine » Engine mechanical (EM)

Drive belt idler pulley
Exploded View
1. Generator bracket 2. Center shaft 3. Spacer 4. Adjusting bolt 5. Washer 6. Idler pulley 7. Plate
Removal and Installation
REMOVAL
Remove the fender protector (RH).
Remove the air duct inlet assembly.
Remove drive belt.
Remove the lock nut, and then remove the plate, idler pulley, and washer.
Remove the center shaft together with the spacer and the adjusting bolt.
INSTALLATION
Insert the center shaft (1) into the slide groove of the spacer (2).Fully screw in the adjusting bolt (3) in the belt loosening direction ( ).
At that time, place the flange (a) of the adjusting bolt and the seat (b) of the center shaft on the spacer.
Place each surface (c and d) of the spacer on the generator bracket. Install the washer, idler pulley, and plate, and then temporarily tighten the lock nut.
Lock nut (Temporary tightening) : 4.4 N*m (0.45 kgm, 39 inlb)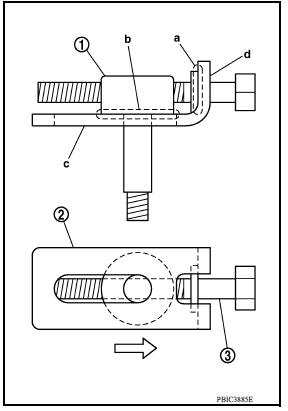 Installation is in the reverse order of removal.
More about «Engine mechanical (EM)»:
Drive belt idler pulley
Categories
© 2017-2023 Copyright www.niveguide.com