Nissan Versa

Sedan Service Manual

Transmission & driveline » Front axle (FAX)

Front wheel hub and knuckle
Inspection
Check the axle and suspension parts for excessive play, wear, or damage.
Shake each front wheel to check for excessive play as shown.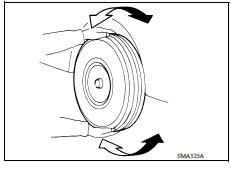 FRONT WHEEL BEARING INSPECTION
Move wheel hub and bearing assembly in the axial direction by hand. Make sure the axial end play is within specification.
Axial end play : Refer to FAX "Wheel Bearing".
Check that the wheel hub bearing operates smoothly.
Replace the wheel hub assembly if the axial end play exceeds specification, or if the wheel bearing does not turn smoothly. Refer to FAX "Removal and Installation".
CAUTION: The wheel hub assembly does not require maintenance. If any of the following symptoms are noted, replace the wheel hub assembly.

Growling noise is emitted from the wheel hub bearing during operation.
Wheel hub bearing drags or turns roughly.
FRONT DRIVE SHAFT
Inspection
REMOVAL AND INSTALLATION
More about «Front axle (FAX)»:
Front wheel hub and knuckle
Categories
© 2017-2023 Copyright www.niveguide.com