Nissan Versa

Sedan Service Manual

Transmission & driveline » Clutch (CL) » Precautions

General Precautions
WARNING: After cleaning clutch disc, wipe it with a dust collector. Do not use compressed air.
CAUTION:
Always use recommended clutch fluid. Refer to MA, "Fluids and Lubricants".
Do not reuse drained clutch fluid.
Keep painted surface on the body and other parts free of clutch fluid. If fluid spills, wipe up immediately and wash the affected area with water.
Do not use mineral oils, such as gasoline or kerosene. It will ruin the rubber parts of the hydraulic system.
Do not reuse CSC (Concentric Slave Cylinder). CSC slides back to the original position every time when removing transaxle assembly. At this time, dust on the sliding parts may damage the seal of CSC and may cause clutch fluid leakage. Refer to CL, "Removal and Installation".
Do not disassemble clutch master cylinder and CSC.
PREPARATION
Special Service Tools

Commercial Service Tools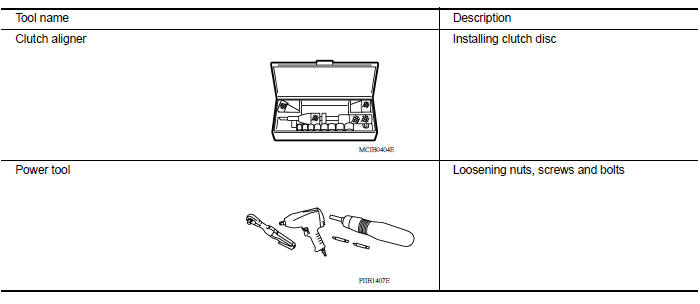 NOISE, VIBRATION AND HARSHNESS (NVH) TROUBLESHOOTING
NVH Troubleshooting Chart
Use the chart below to find the cause of the symptom. The numbers indicate the order of the inspection. If necessary, repair or replace these parts.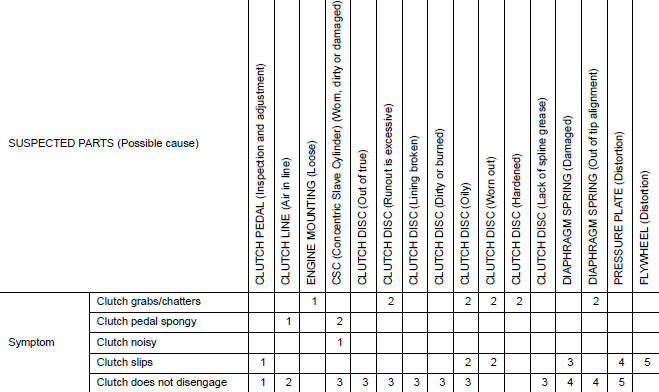 More about «Precautions»:
General Precautions
Categories
© 2017-2023 Copyright www.niveguide.com