Nissan Versa

Sedan Service Manual

Engine » Engine cooling system (CO) » Engine coolant

Inspection
CHECKING COOLING SYSTEM HOSES
Check hoses for the following:
Improper attachment
Leaks
Cracks
Damage
Loose connections
Chafing
Deterioration
CHECKING RESERVOIR LEVEL
Check that the reservoir tank engine coolant level is within the MAX (A) to MIN (B) range when the engine is cool.
Adjust the engine coolant level if necessary.
CAUTION:
Refill the engine cooling system with the specified coolant or equivalent.
CHECKING COOLING SYSTEM FOR LEAKS
To check for leaks, apply pressure to the cooling system using suitable tool (A) and Tool (B).
Tool number (B) : EG17650301 (J33984A)
WARNING:
Do not remove the radiator cap when the engine is hot. Serious burns could occur from highpressure coolant escaping from the radiator.
CAUTION:
Higher test pressure than specified may cause radiator damage.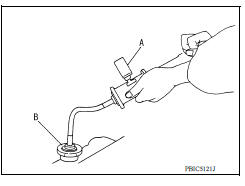 More about «Engine coolant»:
Inspection