Nissan Versa

Sedan Service Manual

Electrical & power control » Power control system (PCS)

IPDM E/R
Removal and Installation
CAUTION: IPDM E/R integrated relays are not serviceable parts and must not be removed from the unit.
REMOVAL
1. Disconnect the battery negative terminal. Refer to PG-63, "Removal and Installation".
2. Remove the IPDM E/R cover.
3. Release the pawls (A) and separate the IPDM E/R (1) from the case.
4. Disconnect the harness connectors and remove the IPDM E/R.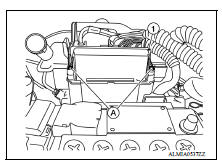 INSTALLATION
Installation is in the reverse order of removal.
POWER DISTRIBUTION SYSTEM
More about «Power control system (PCS)»:
IPDM E/R