Nissan Versa

Sedan Service Manual

Body exterior, doors, roof & vehicle security » Security control system (SEC)

Nissan vehicle immobilizer system-NATS
NISSAN VEHICLE IMMOBILIZER SYSTEMNATS : System Diagram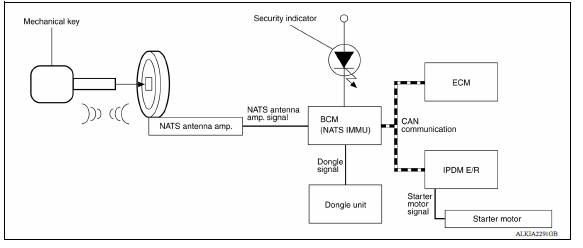 NISSAN VEHICLE IMMOBILIZER SYSTEMNATS : System Description
INPUT/OUTPUT SIGNAL CHART
BCM

SYSTEM DESCRIPTION
NATS (Nissan Anti-Theft System) has the following immobilizer functions:
Engine immobilizer shows high anti-theft performance to prevent engine from starting by other anyone than the owner.
Only a key with key ID registered in BCM and ECM can start engine, and shows high anti-theft performance to prevent key from being copied or stolen.
Security indicator always flashes with mechanical key removed condition (key switch: OFF)
Therefore, NATS warns outsiders that the vehicle is equipped with the anti-theft system.
If system detects malfunction, security indicator illuminates when ignition switch is turned to ON position.
If the owner requires, ignition key ID or mechanical key ID can be registered for up to 5 keys.
During trouble diagnosis or when the following parts have been replaced, and if ignition key is added, registration* 1 is required.
*1: All keys kept by the owner of the vehicle should be registered with mechanical key.
ECM
BCM
Ignition key
Remote keyless entry receiver
NATS trouble diagnosis, system initialization and additional registration of other mechanical key IDs must be carried out using CONSULT.
When NATS initialization has been completed, the ID of the inserted mechanical key or mechanical key IDs can be carried out.
Possible symptom of NATS malfunction is "Engine cannot start". Identify the possible causes according to "Work Flow", Refer to SEC "Work Flow".
If ECM other than Genuine NISSAN is installed, the engine cannot be started. For ECM replacement procedure, refer to SEC "ECM RE-COMMUNICATING FUNCTION : Description".
PRECAUTIONS FOR KEY REGISTRATION
The key registration is a procedure that erases the current NATS ID once, and then re-registers a new ID.

Therefore the registered key is necessary for this procedure. Before starting the registration procedure, collect all registered Keys from the customer.

The NATS ID registration is the procedure that registers the ID stored into the transponder (integrated in mechanical key) to BCM.

The key ID registration is the procedure that registers the ID to the BCM.

When performing the key system registration only, the engine cannot be started by inserting the key into the key cylinder. When performing the NATS registration only, the engine cannot be started by using the ignition key.
SECURITY INDICATOR
Always flashes with ignition key in the OFF position.
MAINTENANCE INFORMATION
CAUTION: It is necessary to perform NATS ID registration when replacing any of the following part.
If it's not (or fail to do so), the electrical system may not operate properly.
BCM
ECM
IPDM E/R
Ignition key
NATS antenna amp.
Dongle unit
Combination meter
DIAGNOSIS SYSTEM (BCM)
COMMON ITEM
COMMON ITEM : CONSULT Function (BCM -COMMON ITEM)
APPLICATION ITEM
CONSULT performs the following functions via CAN communication with BCM.

SYSTEM APPLICATION
BCM can perform the following functions.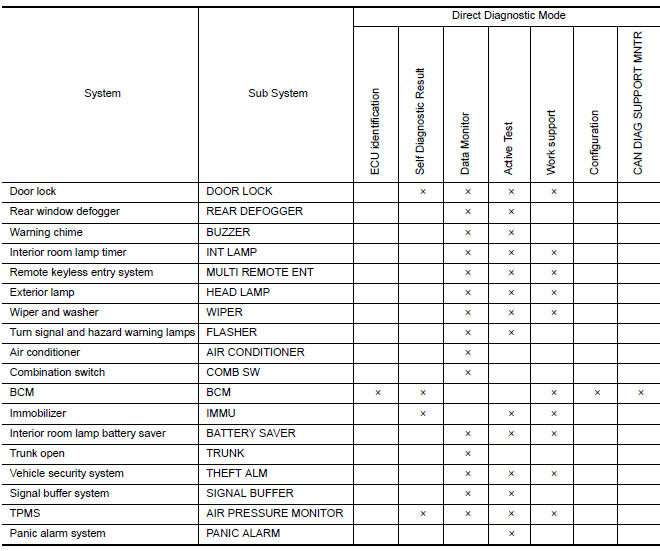 IMMU
IMMU : CONSULT Function (BCM - IMMU)
SELF DIAGNOSTIC RESULT
Refer to BCS "DTC Index".
ACTIVE TEST

WORK SUPPORT

More about «Security control system (SEC)»:
Nissan vehicle immobilizer system-NATS