Nissan Versa

Sedan Service Manual

Ventilation, heater & air conditioner » Heater & air conditioning system (HA)

Performance test
Inspection
INSPECTION PROCEDURE
Connect recovery/recycling/recharging equipment (for HFC-134a) or manifold gauge.
Start the engine, and set to the following condition.
Test condition

Maintain test condition until A/C system becomes stable. (Approximately 10 minutes)
Check that test results of "recirculating-to-discharge air temperature" and "ambient air temperature-tooperating pressure" are within the specified value.
When test results are within the specified value, inspection is complete.

If any test result is out of the specified value, perform diagnosis by gauge pressure. Refer to HA "Symptom Table".
RECIRCULATING-TO-DISCHARGE AIR TEMPERATURE TABLE

AMBIENT AIR TEMPERATURE-TO-OPERATING PRESSURE TABLE

SYMPTOM DIAGNOSIS
HEATER AND AIR CONDITIONING SYSTEM SYMPTOMS
Symptom Table
SYMPTOM TABLE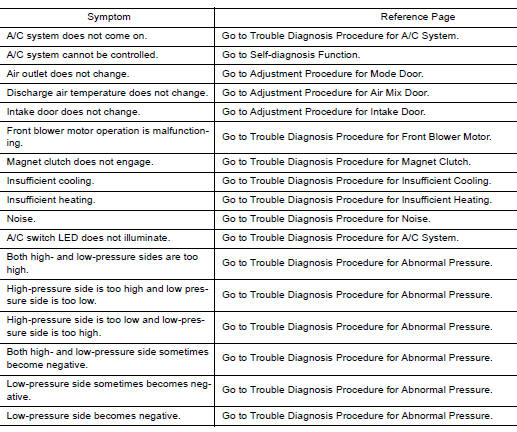 REFRIGERATION SYSTEM SYMPTOMS
Trouble Diagnosis For Unusual Pressure
Diagnose using a manifold gauge whenever system's high and/or low side pressure(s) is/are unusual. The marker above the gauge scale in the following tables indicates the standard (usual) pressure range. Refer to Ambient air temperature-to-operating pressure table since the standard (usual) pressure, differs from vehicle to vehicle.
Symptom Table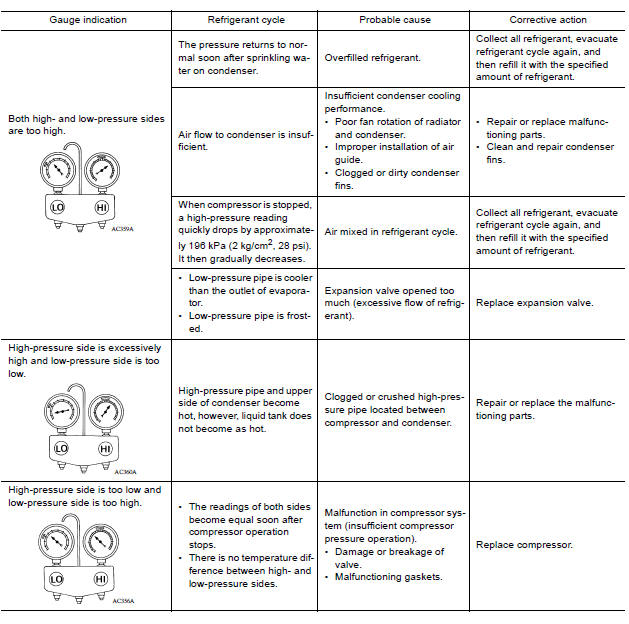 NOISE
Symptom Table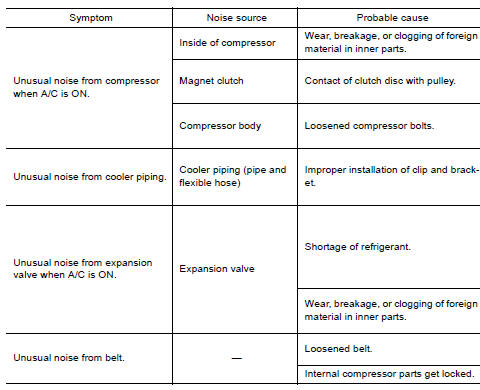 REMOVAL AND INSTALLATION
More about «Heater & air conditioning system (HA)»:
Performance test