Nissan Versa

Sedan Service Manual

Brakes » Brake system (BR) » Precautions

Precaution for Brake System
WARNING: Clean any dust from the front brake and rear brake with a vacuum dust collector. Do not blow with compressed air.
Brake fluid use refer to MA "Fluids and Lubricants".
Do not reuse drained brake fluid.
Do not spill or splash brake fluid on painted surfaces. Brake fluid may seriously damage paint. Wipe it off immediately and wash with water if it gets on a painted surface.
Always confirm the specified tightening torque when installing the brake pipes.
After pressing the brake pedal more deeply or harder than normal driving, such as air bleeding, check each item of brake pedal. Adjust brake pedal if it is outside the standard value.
Always clean with new brake fluid when cleaning the brake caliper and other components.
Do not use mineral oils such as gasoline or light oil to clean. They may damage rubber parts and cause improper operation.
Always loosen the brake tube flare nut with a flare nut wrench.
Tighten the brake tube flare nut to the specified torque with a crowfoot (A) and torque wrench (B).
Brake system is an important safety part. If a brake fluid leak is detected, always disassemble the affected part. If a malfunction is detected, replace part with a new one.
Always connect the battery terminals when moving the vehicle.
Turn the ignition switch OFF and disconnect the hydraulic booster assembly harness connector or the battery negative terminal before performing the work.
Check that no brake fluid leakage is present after replacing the parts.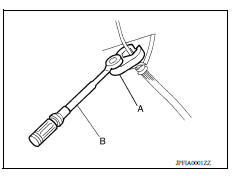 Burnish the brake contact surfaces after refinishing or replacing rotors, after replacing pads, or if a soft pedal occurs at very low mileage.
Front brake pad: Refer to BR "BRAKE PAD : Inspection and Adjustment".
Front disc rotor: Refer to BR "DISC ROTOR : Inspection and Adjustment".
Rear brake lining: refer to BR "BRAKE LINING : Inspection and Adjustment".
Rear brake drum: BR "BRAKE DRUM : Inspection and Adjustment".
PREPARATION
Special Service Tool
The actual shapes of Kent-Moore tools may differ from those of special service tools illustrated here.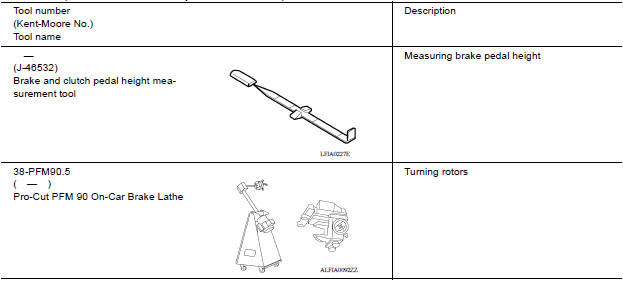 Commercial Service Tool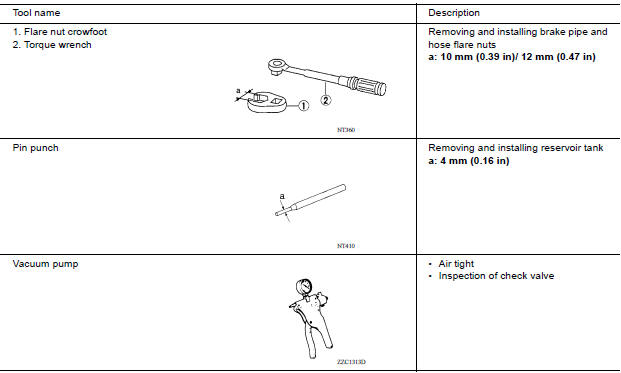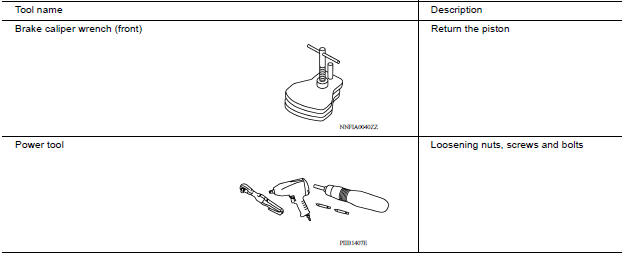 SYMPTOM DIAGNOSIS
NOISE, VIBRATION AND HARSHNESS (NVH) TROUBLESHOOTING
NVH Troubleshooting Chart
Use the chart below to find the cause of the symptom. If necessary, repair or replace these parts.

PERIODIC MAINTENANCE
More about «Precautions»:
Precaution for Brake System
Categories
© 2017-2023 Copyright www.niveguide.com