Nissan Versa

Sedan Service Manual

Body exterior, doors, roof & vehicle security » Door & lock (DLK)

Radiator core support upper
RADIATOR CORE SUPPORT UPPER : Removal and Installation
RADIATOR CORE SUPPORT UPPER
Removal
1. Remove ground harness bolt (A).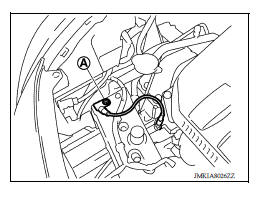 2. Remove horn. Refer to HRN "Removal and Installation".
3. Remove hood lock assembly and hood lock control cable assembly clip. Refer to DLK "HOOD LOCK : Removal and Installation".
4. Remove crash zone sensor. Refer to SR "Removal and Installation".
5. Remove radiator cap adapter bracket bolt (A) and radiator reservoir tank bolt (B).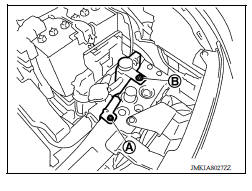 6. Remove radiator upper seal clips.
7. Remove upper clips of radiator side seal (LH/RH).
8. Disconnect all harness clips.
9. Remove front bumper fascia upper side clips (A).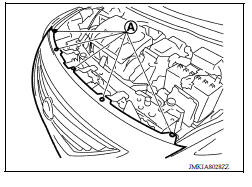 10. Remove radiator core support upper bolts.
11. Pull back on upper part of front bumper fascia (1) and then remove radiator core support upper (2) by pulling upward.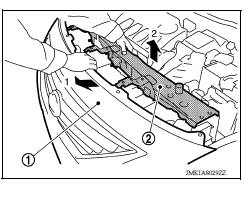 Installation
Installation is in the reverse order of removal.
More about «Door & lock (DLK)»:
Radiator core support upper