Nissan Versa

Sedan Service Manual

Body exterior, doors, roof & vehicle security » Exterior (EXT)

Rear bumper
Exploded View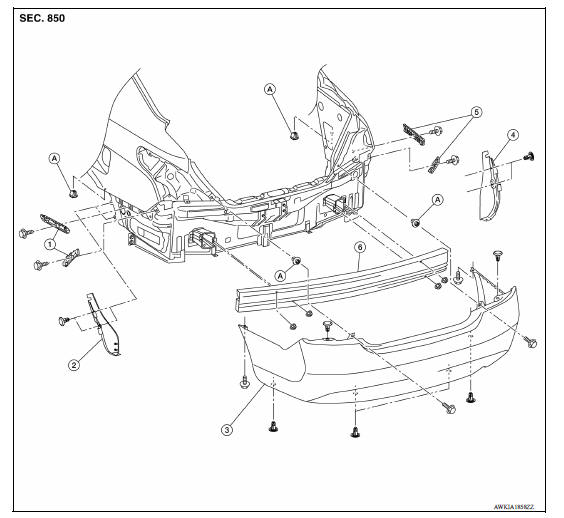 1. Rear bumper side brackets (LH) 2. Rear bumper closing (LH) 3. Rear bumper fascia 4. Rear bumper closing (RH) 5. Rear bumper side brackets (RH) 6. Rear bumper reinforcement A. Screw grommet
Removal and Installation
REMOVAL
CAUTION: Bumper fascia is made of resin. Do not apply strong force to it, and be careful to prevent contact with oil.
1. Remove rear combination lamps (LH/RH). Refer to EXL "Removal and Installation".
2. Remove clips (A) and screws (B) (LH/RH).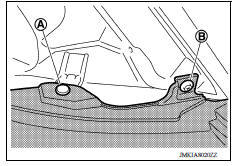 3. Remove rear bumper fascia lower clips.
4. Remove rear bumper fascia end screws (A).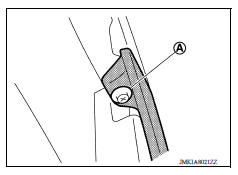 5. Pull rear bumper fascia away as shown by the arrows in the illustration and then disengage the rear bumper fascia from rear bumper side brackets (LH/RH).

Pawl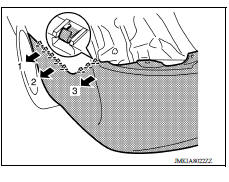 6. Remove rear bumper fascia.
CAUTION: When removing bumper fascia assembly, two people are required to avoid damaging.
7. Remove the following parts after removing rear bumper fascia. Rear bumper side brackets (LH/RH)
8. Remove rear bumper reinforcement nuts and rear bumper reinforcement.
9. Remove rear bumper closing clips and rear bumper closings (LH/RH).
INSTALLATION
Installation is in the reverse order of removal.
NOTE:
The following table shows the specified values for checking normal installation specifications.
Fitting adjustment cannot be performed.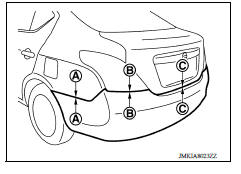 More about «Exterior (EXT)»:
Rear bumper