Nissan Versa

Sedan Service Manual

Body exterior, doors, roof & vehicle security » Exterior (EXT)

Rear spoiler
Exploded View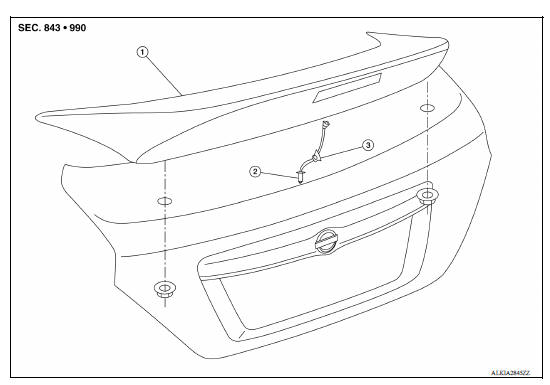 1. Rear spoiler 2. High-mounted stop lamp harness connector 3. Harness grommet
Removal and Installation
Removal
1. Remove trunk lid finisher (if equipped). Refer to EXT "Removal and Installation".
2. Disconnect high-mounted stop lamp harness connector (1).
3. Remove the rear spoiler nuts.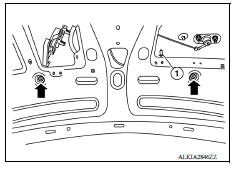 4. Using a suitable heating tool may also be necessary to evenly heat the rear spoiler contact surface while releasing the tape with a suitable tool.
5. Loosen the harness grommet and gently lift the rear spoiler upward off of trunk lid.
Installation
Installation is in the reverse order of removal.
NOTE:
Before installing rear spoiler, clean the surface where it will be mounted with isopropyl alcohol or equivalent to degrease the surface.
Before installing, be sure there are no gaps or waves in the adhesive-backed foam tape where the surfaces meet.
During installation, be sure harness grommet of high-mounted stop lamp is fully seated into trunk lid opening prior to final rear spoiler placement.
More about «Exterior (EXT)»:
Rear spoiler