Nissan Versa

Sedan Service Manual

Restraints » SRS Airbag control system (SRC) » Component parts

SRS Component Connectors
DIRECT CONNECT
The following SRS components use direct-connect style harness connectors.
Driver front air bag module
Passenger front air bag module
LH side curtain air bag module
RH side curtain air bag module
Front LH seat belt pre-tensioner
Front RH seat belt pre-tensioner
Always pull up to release locking tab prior to removing connector from SRS component.
Always push down to lock locking tab after installing connector to SRS component. When locked, the locking tab is level with the connector housing.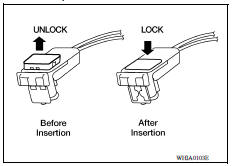 SLIDE DOUBLE LOCKING
A new style slide double locking type connector is used on certain systems and components, especially those related to airbag control systems.
The slide double locking type connectors help prevent incomplete locking and accidental looseness or disconnection.
The slide double locking type connectors are disconnected by pushing or pulling the slider. Refer to the figure below.
CAUTION: Do not pull the harness or wires when disconnecting the connector.
SYSTEM
More about «Component parts»:
SRS Component Connectors
Categories
© 2017-2023 Copyright www.niveguide.com