Nissan Versa

Sedan Service Manual
TRUNK OPEN FUNCTION : System Description
System Diagram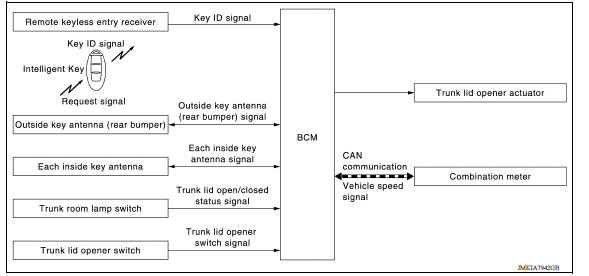 TRUNK LID OPENER OPERATION
When the BCM detects that trunk lid opener switch is pressed, it starts the outside key antenna (rear bumper) and inside key antenna and transmits the request signal to the Intelligent Key. Then, checks that the Intelligent Key is near the trunk lid.
If the Intelligent Key is within the outside key antenna detection area, it receives the request signal and transmits the key ID signal to the BCM via remote keyless entry receiver.
BCM receives the key ID signal and compares it with the registered key ID.
OPERATION CONDITION
If the following conditions are satisfied, the trunk lid can be opened.

OUTSIDE KEY ANTENNA DETECTION AREA
The outside key antenna detection area of trunk lid open function is in the range of approximately 80 cm (31.50 in) surrounding trunk lid opener switch (1). However, this operating range depends on the ambient conditions.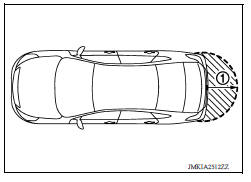 LIST OF OPERATION RELATED PARTS
Parts marked with × are the parts related to operation.

More about «Door & lock (DLK)»:
Trunk open function