Nissan Versa

Sedan Service Manual

Engine » Engine control system (EC)

Air conditioning cut control
AIR CONDITIONING CUT CONTROL : System Diagram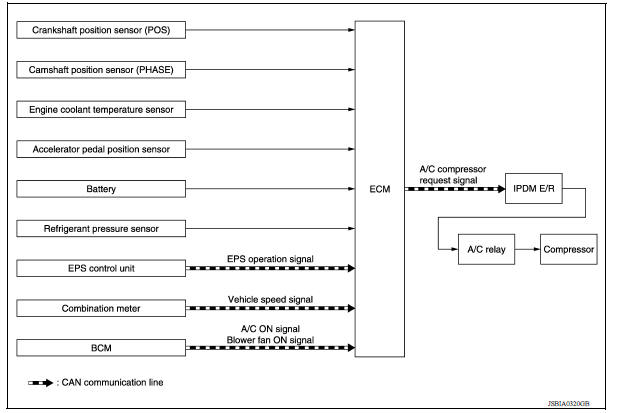 AIR CONDITIONING CUT CONTROL : System Description
INPUT/OUTPUT SIGNAL CHART
Sensor
Input signal to ECM
ECM function
Actuator
Crankshaft position sensor (POS) Camshaft position sensor (PHASE)
Engine speed*1 Piston position
A/C compressor request signal
IPDM E/R ↓ Air conditioner relay ↓ Compressor
Engine coolant temperature sensor
Engine coolant temperature
Accelerator pedal position sensor
Accelerator pedal position
Battery
Battery voltage*1
Refrigerant pressure sensor
Refrigerant pressure
EPS control unit
EPS operation signal*2
Combination meter
Vehicle speed signal*2
BCM
A/C ON signal*2 Blower fan signal*2
*1: ECM determines the start signal status by the signals of engine speed and battery voltage.
*2: This signal is sent to the ECM through CAN communication line.
SYSTEM DESCRIPTION
This system improves engine operation when the air conditioner is used.
Under the following conditions, the air conditioner is turned off.
When the accelerator pedal is fully depressed.
When cranking the engine.
At high engine speeds.
When the engine coolant temperature becomes excessively high.
When operating power steering during low engine speed or low vehicle speed.
When engine speed is excessively low.
When refrigerant pressure is excessively low or high.
Can communication
CAN COMMUNICATION : System Description
CAN (Controller Area Network) is a serial communication line for real time application. It is an onvehicle multiplex communication line with high data communication speed and excellent error detection ability. Many electronic control units are equipped onto a vehicle, and each control unit shares information and links with other control units during operation (not independent). In CAN communication, control units are connected with 2 communication lines (CAN H line, CAN L line) allowing a high rate of information transmission with less wiring.
Each control unit transmits/receives data but selectively reads required data only.
More about «Engine control system (EC)»:
Air conditioning cut control