Nissan Versa

Sedan Service Manual

Driver information & multimedia » Audio, visual & navigation system (AV)

Bluetooth antenna
Removal and Installation
REMOVAL
1. Remove the rear seat cushion assembly. Refer to SE "Removal and Installation - Seat Cushion Assembly".
2. Remove the rear step plate (RH).
3. Remove the rear seatback side assembly (RH).
4. Remove the rear seatback assembly (RH).
5. Remove the trunk floor finisher.
6. Remove the trunk rear finisher.
7. Remove the trunk side finisher (RH).
8. Disconnect the Bluetooth antenna from the bluetooth control unit (A).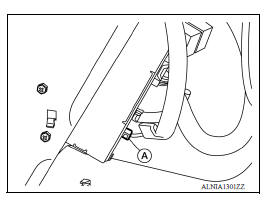 9. Release the four Bluetooth antenna harness clips (B).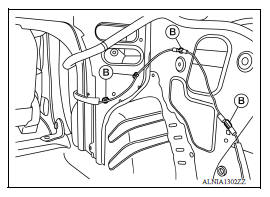 10. Release the remaining Bluetooth antenna harness clip (B) and remove the Bluetooth antenna screw (C).
11. Remove the Bluetooth antenna assembly (1).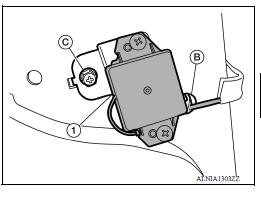 INSTALLATION
Installation is in the reverse order of removal.
More about «Audio, visual & navigation system (AV)»:
Bluetooth antenna