Nissan Versa

Sedan Service Manual

Driver controls » Interior lighting system (INL) » Trunk room lamp

Bulb Replacement
WARNING: Do not touch bulb with your hand while it is on or right after being turned off. Burning may result.
CAUTION:
Do not touch the glass surface of the bulb with bare hands or allow oil or grease to get on it to prevent damage to the bulb.
Leaving the bulb removed from housing for a long period of time can deteriorate performance of the lens and reflector (causing dirt or clouding). Always prepare a new bulb and have it on hand when replacing the bulb.
TRUNK ROOM LAMP BULB
Removal
1. Release the trunk room lamp pawl to open lens.

Pawl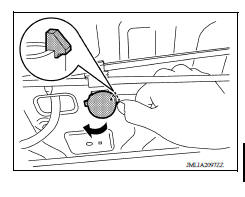 2. Remove the bulb.
Installation
Installation is in the reverse order of removal.
ILLUMINATION CONTROL SWITCH
Removal and Installation
The illumination control switch is integrated in the combination meter. Refer to MWI "Removal and Installation" (TYPE A) or MWI "Removal and Installation" (TYPE B).
SERVICE DATA AND SPECIFICATIONS (SDS)
Bulb Specifications

*: Always check with the Parts Department for the latest parts info.
More about «Trunk room lamp»:
Bulb Replacement