Nissan Versa

Sedan Service Manual

Driver controls » Exterior lighting system (EXL)

Combination switch
Exploded View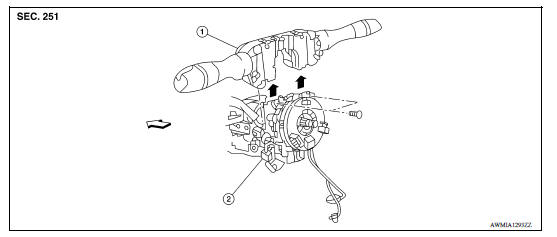 1. Combination switch 2. Combination switch harness connector

Front
Removal and Installation
CAUTION:
Before servicing, disconnect both battery terminals and wait at least three minutes.
Do not use air tools or electric tools for servicing.
REMOVAL
1. Disconnect positive and negative battery terminals. Refer to PG "Removal and Installation".
2. Remove the steering column covers. Refer to IP "Removal and Installation".
3. Rotate steering wheel clockwise to access first combination switch bolt then remove bolt.
4. Rotate steering wheel counter-clockwise to access second combination switch bolt.
5. Remove bolt, disconnect the harness connectors from the combination switch and remove.
INSTALLATION
Installation is in the reverse order of removal.
CAUTION:
After the work is completed, make sure no system malfunction is detected by air bag warning lamp.
In case a malfunction is detected by the air bag warning lamp, reset with the self-diagnosis function and delete the memory with CONSULT.
If a malfunction is still detected after the above operation, perform self-diagnosis to repair malfunctions.

Refer to SRC "SRS Operation Check".
More about «Exterior lighting system (EXL)»:
Combination switch