Nissan Versa

sedan Owners Manual

Monitor, climate, audio, phone and voice recognition systems » Bluetooth Hands-Free Phone System with Navigation System (if so equipped)

Connecting Procedure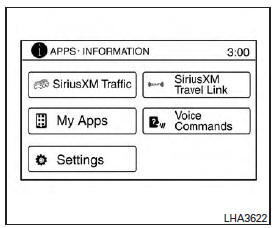 NOTE:
The connecting procedure must be performed when the vehicle is stationary. If the vehicle starts moving during the procedure, the procedure will be canceled.
1. Press the [

] button on the control panel.
2. Touch the "Settings" key.
3. Touch the "Phone & Bluetooth" key.
4. Touch the "Connect New Device" key.
5. Initiate the connecting process from the handset. The system will display the message: "Is PIN XXXXXX displayed on your Bluetooth device?". If the PIN is displayed on your Bluetooth device, select "Yes" to complete the pairing process.
For additional information, refer to the Bluetooth device's Owner's Manual.
More about «Bluetooth Hands-Free Phone System with Navigation System (if so equipped)»:
Connecting Procedure