Nissan Versa

Sedan Service Manual

Transmission & driveline » Transaxle & transmission (TM) » CVT Control system

CVT Control system : system description
SYSTEM DIAGRAM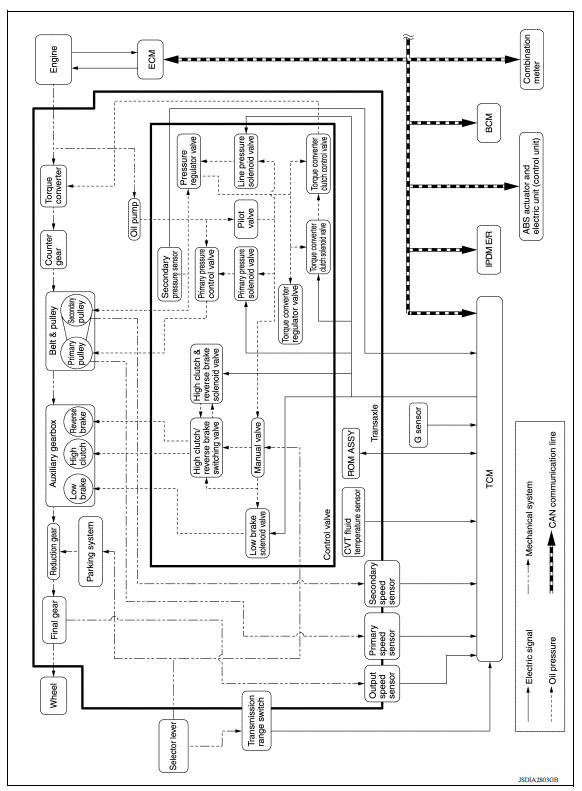 INPUT/OUTPUT SIGNAL TABLE
Sensor (or signal)

TCM function

Actuator

Engine and CVT integrated control signal
Engine speed signal
Accelerator pedal position signal
Closed throttle position signal
Stop lamp switch signal
Secondary pressure sensor
CVT fluid temperature sensor
Primary speed sensor
Secondary speed sensor
Output speed sensor
Transmission range switch signal
Overdrive control switch signal
Vehicle speed signal (ABS)
ABS operation signal
A/C compressor feedback signal
G sensor
N idle instruction signal
Turn indicator signal

Line pressure control (TM "LINE PRESSURE CONTROL : System Description")
Shift control (TM "SHIFT CONTROL : System Description")
Select control (TM "SELECT CONTROL : System Description")
Lock-up control (TM "LOCK-UP CONTROL : System Description")
Idle neutral control (TM "IDLE NEUTRAL CONTROL : System Description")
Fail-safe mode (TM "Fail-safe")
Self-diagnosis function (TM "CONSULT Function")
Communication function with CONSULT (TM "CONSULT Function")
CAN communication control (TM "Description")

Line pressure solenoid valve
Primary pressure solenoid valve
Torque converter clutch solenoid valve
High clutch & reverse brake solenoid valve
Low brake solenoid valve
OD OFF indicator lamp
Shift position indicator
SYSTEM DESCRIPTION
CVT detects the vehicle driving status from switches, sensors and signals, and controls the vehicle so that the optimum shift position and shift timing may always be achieved. It also controls the vehicle to reduce shift and lockup shock, etc.
Receives input signals from switches and sensors.
Sends the output signal necessary for operation of solenoid valves, and evaluates the line pressure, shift timing, lockup operation, engine brake performance, etc.
If a malfunction occurs on the electric system, activate the fail-safe mode only to drive the vehicle.
LIST OF CONTROL ITEMS AND INPUT/OUTPUT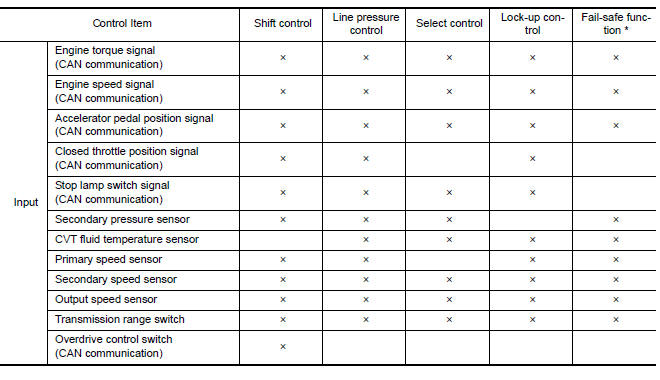 **: If these input/output signals show errors, TCM activates the fail-safe function.
CVT CONTROL SYSTEM : Schematic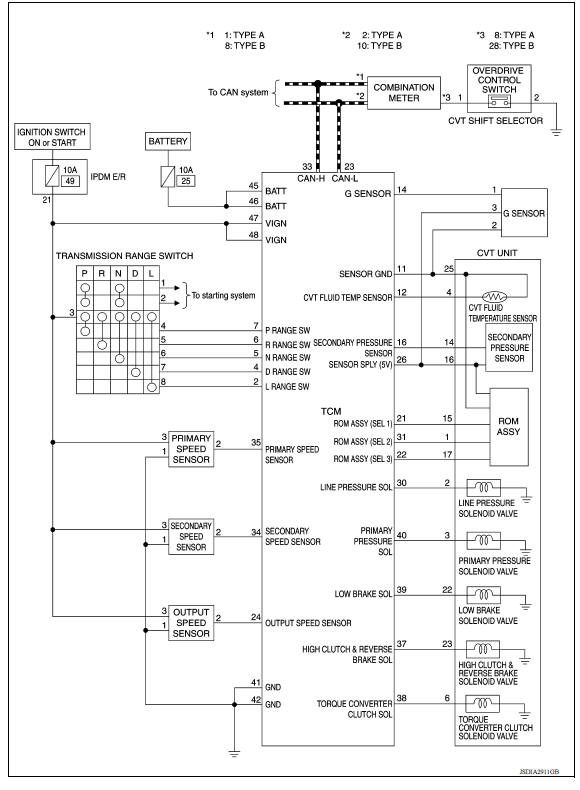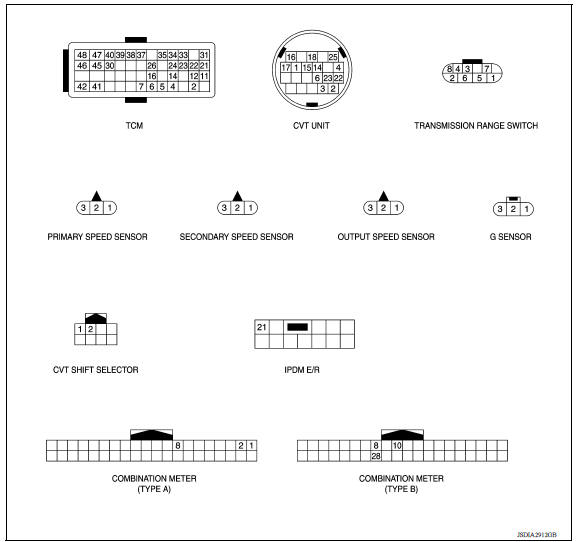 More about «CVT Control system»:
CVT Control system : system description
Categories
© 2017-2023 Copyright www.niveguide.com