Nissan Versa

Sedan Service Manual

Body exterior, doors, roof & vehicle security » Power window control system (PWC)

Diagnosis and repair work flow
Work Flow
OVERALL SEQUENCE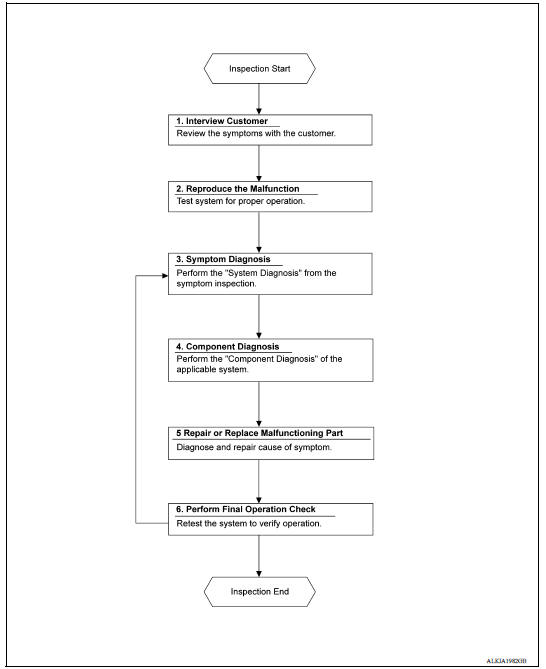 DETAILED FLOW
1. OBTAIN INFORMATION ABOUT SYMPTOM
Interview the customer to obtain as much information as possible about the conditions and environment under which the malfunction occurred.
>> GO TO 2
2. REPRODUCE THE MALFUNCTION INFORMATION
Check the malfunction on the vehicle that the customer describes.
Inspect the relation of the symptoms and the condition when the symptoms occur.
>> GO TO 3
3. IDENTIFY THE MALFUNCTIONING SYSTEM WITH "SYMPTOM DIAGNOSIS"
Use "Symptom diagnosis" from the symptom inspection result in step 2 and then identify where to start performing the diagnosis based on possible causes and symptoms.
>> GO TO 4
4. PERFORM THE COMPONENT DIAGNOSIS OF THE APPLICABLE SYSTEM
Perform the diagnosis with "Component diagnosis" of the applicable system.
>> GO TO 5
5. REPAIR OR REPLACE THE MALFUNCTIONING PARTS
Repair or replace the specified malfunctioning parts.
>> GO TO 6
6. FINAL CHECK
Check that malfunctions are not reproduced when obtaining the malfunction information from the customer, referring to the symptom inspection result in step 2.
Are the malfunctions corrected?
YES >> Inspection End.
NO >> GO TO 3
DTC/CIRCUIT DIAGNOSIS
More about «Power window control system (PWC)»:
Diagnosis and repair work flow