Nissan Versa

Sedan Service Manual

Driver controls » Wiper & washer (WW)

Diagnosis and repair workflow
Work Flow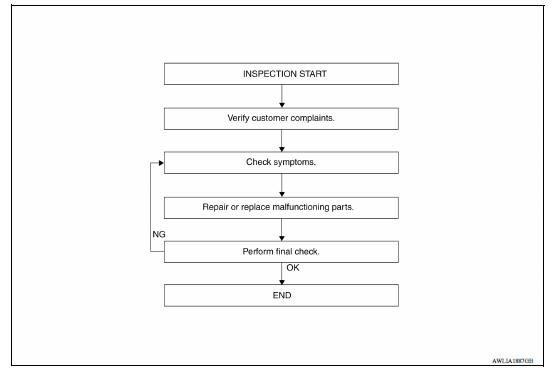 DETAILED FLOW
1. REVIEW CUSTOMER COMPLAINT
Review customer complaint. Try to obtain detailed information about the conditions when the symptom occurs.
>> GO TO 2
2. VERIFY THE SYMPTOM
Verify the symptom by performing an operational check. Refer to WW"System Description".
>> GO TO 3
3.PERFORM TROUBLE DIAGNOSIS BY SYMPTOM
Diagnose the vehicle by performing the appropriate trouble diagnosis. Refer to WW "Symptom Table".
>> GO TO 4
4. REPAIR OR REPLACE MALFUNCTIONING PARTS
Repair or replace the specific parts.
>> GO TO 5
5. FINAL CHECK
Perform a final inspection of the system.
Is the inspection result normal?
YES >> Inspection End.
NO >> GO TO 2.
DTC/CIRCUIT DIAGNOSIS
More about «Wiper & washer (WW)»:
Diagnosis and repair workflow