Nissan Versa

Sedan Service Manual

Transmission & driveline » Transaxle & transmission (TM) » Water hose

Inspection
INSPECTION AFTER REMOVAL
Heater Thermostat
Fully immerse the heater thermostat (1) in a container (A) filled with water. Continue heating the water while stirring.
Continue heating the heater thermostat for 5 minutes or more after bringing the water to a boil.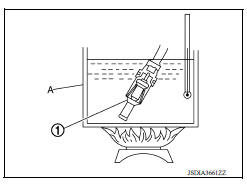 3. Quickly take the heater thermostat out of the hot water, measure the heater thermostat within 10 seconds.
Place dial indicator (A) on the pellet (B) and measure the elongation from the initial state.
Standard : Refer to TM "Heater Thermostat".
4. If out of standard, replace heater thermostat.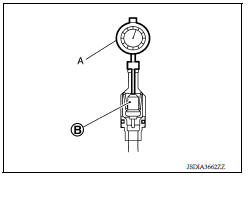 INSPECTION AFTER INSTALLATION
Start the engine, and check the joints for coolant leakage.
More about «Water hose»:
Inspection
Categories
© 2017-2023 Copyright www.niveguide.com