Nissan Versa

Sedan Service Manual

Suspension » Road wheels & tires (WT)

PRECAUTIONS
Precaution for Supplemental Restraint System (SRS) "AIR BAG" and "SEAT BELT PRE-TENSIONER"
The Supplemental Restraint System such as "AIR BAG" and "SEAT BELT PRE-TENSIONER", used along with a front seat belt, helps to reduce the risk or severity of injury to the driver and front passenger for certain types of collision. This system includes seat belt switch inputs and dual stage front air bag modules. The SRS system uses the seat belt switches to determine the front air bag deployment, and may only deploy one front air bag, depending on the severity of a collision and whether the front occupants are belted or unbelted.
Information necessary to service the system safely is included in the SR and SB section of this Service Manual.
WARNING:
To avoid rendering the SRS inoperative, which could increase the risk of personal injury or death in the event of a collision which would result in air bag inflation, all maintenance must be performed by an authorized NISSAN/INFINITI dealer.
Improper maintenance, including incorrect removal and installation of the SRS, can lead to personal injury caused by unintentional activation of the system. For removal of Spiral Cable and Air Bag Module, see the SR section.
Do not use electrical test equipment on any circuit related to the SRS unless instructed to in this Service Manual. SRS wiring harnesses can be identified by yellow and/or orange harnesses or harness connectors.
PRECAUTIONS WHEN USING POWER TOOLS (AIR OR ELECTRIC) AND HAMMERS
WARNING:
When working near the Airbag Diagnosis Sensor Unit or other Airbag System sensors with the Ignition ON or engine running, DO NOT use air or electric power tools or strike near the sensor(s) with a hammer. Heavy vibration could activate the sensor(s) and deploy the air bag(s), possibly causing serious injury.
When using air or electric power tools or hammers, always switch the Ignition OFF, disconnect the battery, and wait at least 3 minutes before performing any service.
Service Notice and Precautions for TPMS
WARNING: Radio waves could adversely affect electric medical equipment. Those who use a pacemaker should contact the electric medical equipment manufacturer for the possible influences before use.
Low tire pressure warning lamp blinks for 1 minute, then turns ON when occurring any malfunction except low tire pressure. Erase the self-diagnosis memories for Tire Pressure Monitoring System (TPMS), or register the ID to turn low tire pressure warning lamp OFF. For ID registration, refer to WT "Work Procedure".
ID registration is required when replacing or rotating wheels, replacing tire pressure sensor or BCM. Refer to WT "Work Procedure".
Replace grommet seal, valve core and valve cap of tire pressure sensor in TPMS, when replacing each tire by reaching the wear limit. Refer to WT "Removal and Installation".
Because the tire pressure sensor conforms to North America radio law, the following items must be observed.
The sensor may be used only in North America.
It may not be used in any method other than the specified method.
It must not be disassembled or modified.
Service Notice and Precautions for Road Wheel
Genuine NISSAN aluminum wheel is designed for each type of vehicle. Use it on the specified vehicle only.
Use Genuine NISSAN parts for the road wheels, valve caps and wheel nuts.
Always use them after adjusting the wheel balance. For the balance weights, use Genuine NISSAN aluminum wheel weights.
Use caution when handling the aluminum wheels, because they can be easily scratched. When removing dirt, do not use any abrasives, a wire brush, or other items that may scratch the coating. Use a neutral detergent if a detergent is needed.
After driving on roads scattered with anti-icing salts, wash off the wheels completely.
When installing road wheels onto the vehicle, always wipe off any dirt or foreign substances to prevent them from being trapped between the contact surfaces of wheel.
Do not apply oil to nut and bolt threads.
When tightening the valve cap there is a risk of damaging the valve cap if a tool is used. Tighten by hand.
PREPARATION
Special Service Tool
The actual shapes of Kent-Moore tools may differ from those of special service tools illustrated here.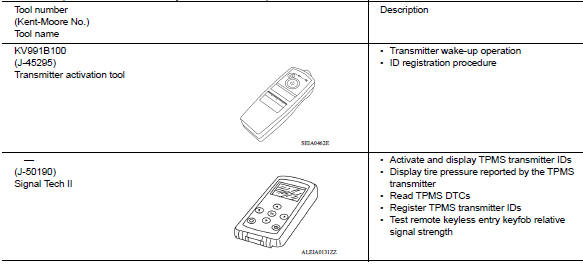 Commercial Service Tool

SYSTEM DESCRIPTION
More about «Road wheels & tires (WT)»:
PRECAUTIONS