Nissan Versa

Sedan Service Manual

Electrical & power control » LAN System (LAN)

Precautions
Precautions for Trouble Diagnosis
CAUTION: Follow the instructions listed below. Failure to do this may cause damage to parts:
Never apply 7.0 V or more to the measurement terminal.
Use a tester with open terminal voltage of 7.0 V or less.
Turn the ignition switch OFF and disconnect the battery cable from the negative terminal when checking the harness.
Precautions for Harness Repair
Solder the repaired area and wrap tape around the soldered area.
NOTE: A fray of twisted lines must be within 110 mm (4.33 in).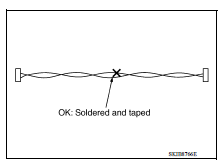 Bypass connection is never allowed at the repaired area.
NOTE: Bypass connection may cause CAN communication error. The spliced wire becomes separated and the characteristics of twisted line are lost.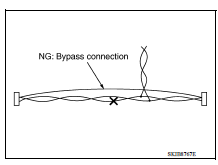 Replace the applicable harness as an assembly if error is detected on the shield lines of CAN communication line.
SYSTEM DESCRIPTION
More about «LAN System (LAN)»:
Precautions
Categories
© 2017-2023 Copyright www.niveguide.com